Jurji Zaidan's Life Journey
Watch this exciting video about Jurji Zaidan's life

Jurji Zaidan was born in Beirut, Lebanon, on December 14, 1861 into a Greek Orthodox family and he grew up in very modest conditions. By the time he died unexpectedly in Cairo on July 21, 1914 at the age of fifty three he had established himself in a little over twenty years as one of the most prolific and influential thinkers and writers of the Arab Nahda (Awakening), an educator and intellectual innovator in the Arab world. He could not complete his autobiography1, started only a few years before his untimely death. It covered only the first twenty years of his life but it gave us an invaluable insight into his early years in Beirut and what drove him and enabled him to scale the heights that he did.
Zaidan received a rudimentary education as his father sent him to work in the small family restaurant from age eleven. Zaidan senior, himself illiterate, did not encourage any education beyond simple reading and writing. But his son had a thirst for knowledge and education which his mother encouraged. With the help of teachers that he met in the family restaurant he pursued his studies at home. At the age of nineteen Jurji was able to successfully sit for the entrance exam of the Syrian Protestant College that was to become the American University of Beirut and enrolled in its school of medicine. But his studies came to an abrupt halt because of a strike resulting from a schism between the administration and some teachers over the firing of a faculty member for having expressed favorable views about the theory of evolution. The young Zaidan was a student leader and a strong proponent of reinstalling the professor in his position. In the ensuing turmoil, the administration closed the University for a year which prompted Jurji to leave for Cairo in 1882. Once settled there Zaidan began a long career as a writer and journalist.

He was a self-made man. In his autobiography he frequently uses terms such as "hard work", "perseverance", "punctuality", and "discipline". In his letters to his son Emile, Zaidan writes how reading "about the life of men who reached the top through their efforts and struggle and reliance upon themselves alone" excited him so much, that he was never able to put down the book before finishing it. He felt the stories he read reflected exactly his own situation, providing advice on how to rise above the conditions of one's birth.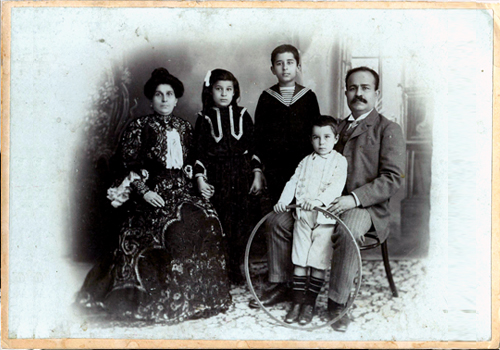 Autobiography
Jurji Zaidan started to write his autobiography a few years before his unexpected death at the age of 53. He was unable to complete it. It covered only the first twenty years of his life and ends when he leaves Beirut to start what was to become a new life in Egypt. But it tells a lot about the man and the inner strivings that drove him to become one of the leaders of the Arab Renaissance.
The autobiography was translated by Thomas Philipp as part of his book on Gurji Zaidan. His Life and Thought. Wiesbaden, Germany: Steiner Verlag, 1979 for which he wrote an introduction. It is followed by selected letters on subjects that were dealt with in his autobiography and that Zaidan wrote mostly to his son Emile while he was studying at the American University in Beirut.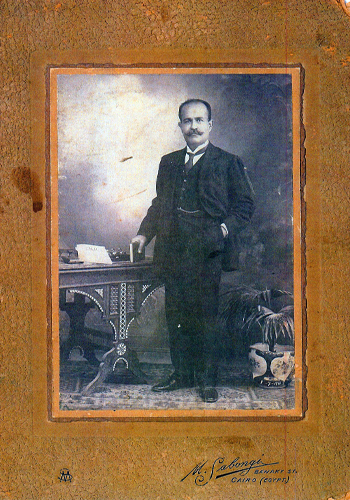 Many Men In One Man –
Joseph Harb
Jurji Zaidan was a prolific writer whose objective was to inform and educate his Arab contemporaries about the modern world, as well as about their past and their national identity. He is considered to have been one of the intellectual leaders in laying the foundation for a pan-Arab secular national identity. Zaidan was the archetypical member of the Nahda at the end of the nineteenth and early twentieth centuries. He belonged to a new intellectual elite whose education was not based on traditional or religious learning. Zaidan was an autodidact whose only college training was one year spent in the medical department of the Syrian Protestant College in Beirut. His writings as a historian, as a linguist and as a political and social commentator and analyst bore the strong imprint of his scientific and evolutionary outlook and shaped his analytical approach in all these areas. His works gave a distinctly secular outlook to the emergence of the Arab nationalism of the times. Many other Arab writers both Muslim and Christian like himself promoted similar political and social values, but he was one of its leaders.
Zaidan was once described, quite appropriately, as "many men in one man" as he established himself as a successful historian, novelist, linguist, educator and journalist. His writings in all these areas were used, in a mutually re-enforcing way, to develop and promote a national sense of pan-Arab secular identity.
The Journalist
In 1892 he founded one of the earliest and most successful monthly magazines called Al-Hilal (The Crescent Moon) which has been published without interruption to this day. Al-Hilal remains a treasure trove for the student of intellectual and social history of the time. The twenty-two historical novels he wrote were all serialized in that magazine. In addition to the novels, he also wrote articles in his magazine on a large number of topics: the history of Islamic civilization, and the history and development of languages, as well as on political, social, educational and ethical issues. He thus played a very important role in making readers of Arabic more aware of the important events in their history and in developing a sense of national identity. Dar al-Hilal is still today one of the largest publishing houses for periodicals in the Arab world.
Nothing better illustrates the legacy of Jurji Zaidan's contribution to the Arab cultural heritage than the cover of the Al-Hilal issue of 2017 celebrating the 125 th anniversary of its birth in these words: "Al-Hilal is not only a magazine but a repository of the history of Egypt and the Arab nation and a bulwark against extremism and terrorism."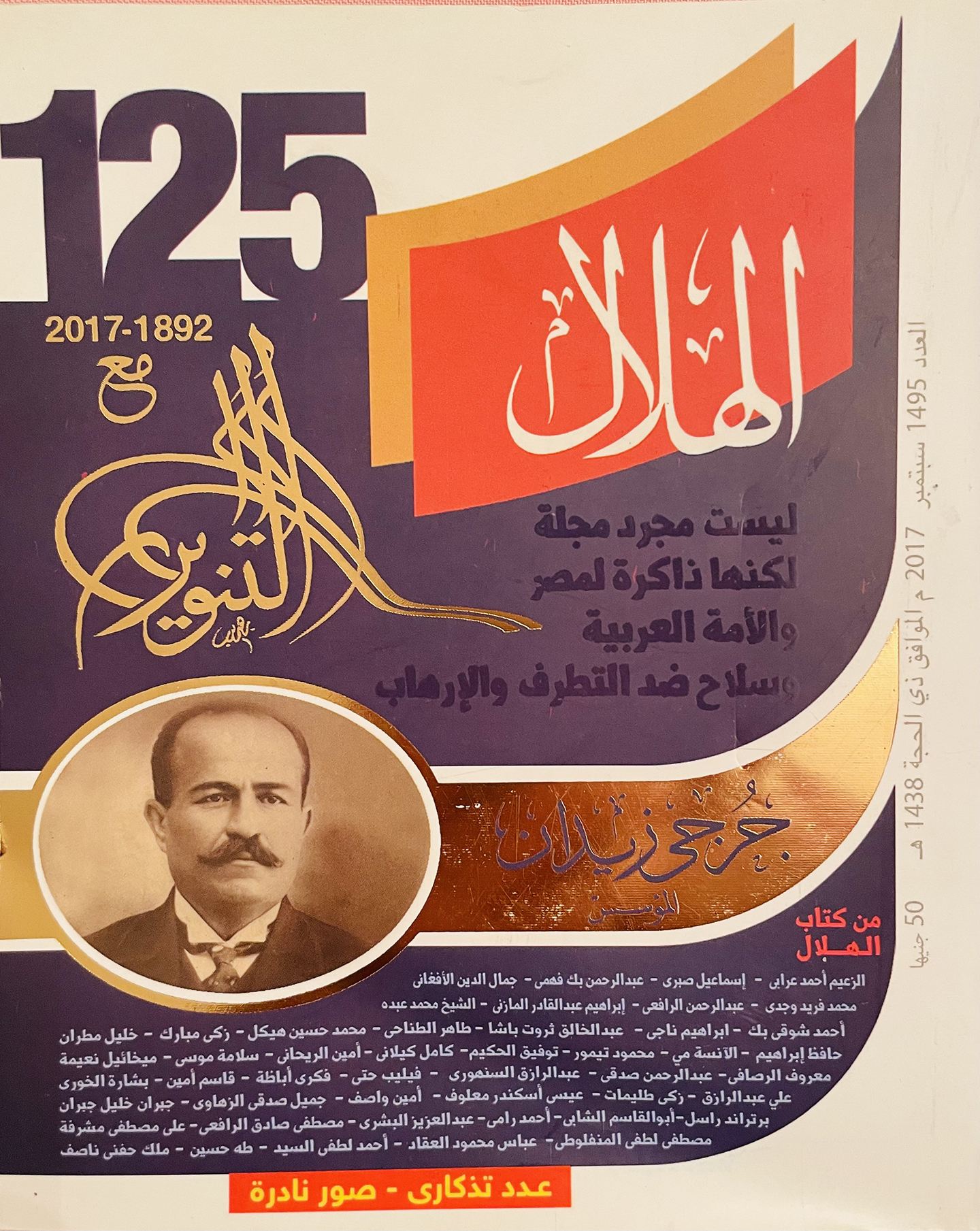 The Novelist
Zaidan may be best remembered today as one of the pioneers in the composition of historical novels within the modern Arabic literary tradition and in their serialization in magazines. The twenty-two historical novels he wrote are popular to this day – they were regularly reprinted every decade or so since they were first serialized and more than one hundred translations of these novels have been made into many different languages including Persian, Turkish/Ottoman, Javanese, Uighur, Azeri, Urdu, French, Spanish, and others. The novels cover an extensive period of Arab history, from the rise of Islam in the seventh century until the decline of the Ottoman Empire in the 19th. The particular manners, lifestyles, beliefs and social mores of those periods, as well as political events, provided the context within which Zaidan weaved adventure and romance, deception and excitement. They were therefore as much "historical" as "novels" reminiscent of the historical novels of Alexandre Dumas in France and Sir Walter Scott in Britain, though Jurji Zaidan's novels more closely reflect actual historical events and developments.
The Historian
Jurji Zaidan wrote several books on history and perhaps his most noteworthy contribution was a five volume work on the History of Islamic Civilization2 in which he attempted to provide, for the first time, a secular national interpretation of Arab history, related and yet distinct from the traditional Muslim religious interpretation of the past. In this context he wrote a book about the early history of the Arabs before Islam.
2 The fourth volume, Umayyads and Abbasids was translated into English by D.S.Margoliouth in 1908 and is available in the Library of Congress, the British Library, the Harvard (Widener) Library and others.
The Linguist
Jurji Zaidan wrote several books on linguistics and had a major role in influencing the evolution of the Arabic language during his time. At the theoretical level he analyzed the attributes of various languages and their evolution, judging Arabic to be one of the more developed languages. Unlike many of his contemporaries, who believed Arabic to have reached a static ideal in the Koran, he saw Arabic, just like other languages, to be a "living being" that had evolved over time and needed to change to integrate modern, scientific and other terms. As an Arab nationalist he strongly felt that classical rather than colloquial Arabic should be the vehicle for this modernization thereby becoming an even stronger bond strengthening all Arabic-speaking peoples. He worried that using local Arabic dialects for that purpose would erode and divide the Arab world just as the evolution of Latin into European languages spawned competing nationalisms. He was especially concerned about spreading education to as many people as possible – as his efforts for the establishment of a simplified, modern, standard written Arabic show. At the practical level he was one of the most vocal proponents for the establishment of an academy to steer the process of modernization of the Arabic language comparable to the Académie Française. Partly as a result of his efforts, an equivalent institution, the "Majma' al Lughawi", was established.
The Educator of Society
All the above roles combined to further Jurji Zaidan's mission to educate the Arabs about their shared past and at the same time instruct them about the modern world thus creating a national consciousness and identity. He wrote extensively, mostly in al-Hilal, on a wide range of social and other issues. These articles dealt with, not only topics on history and language that were covered more extensively in his written books, but also a variety of social and political subjects. Areas covered in these writings included such topics as the relationship between religion and science, ethics and society, the role of women, morality, work ethics among others3. He was a strong supporter of the social emancipation of women but within the respect of her traditional role in the family. Last but not least, he was one of the strongest proponents for, and instrumental in, the establishment of the first Egyptian University.
3 For a selection of Jurji Zaidan's selected writings that were translated into English see the volume by Thomas Philipp on Jurji Zaidan and the Foundations of Arab Nationalism. The Table of Contents of that Volume reproduced in this website under "Studies on Jurji Zaidan" lists the titles of these articles and book excerpts.